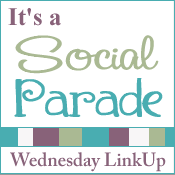 I love finding great new blogs! Smart and Trendy Moms has a fun way to find great blogs and to increase your followers, fans, etc...
It's a Social Parade
- Wednesday Link-up is a weekly link-up hosted by
Smart and Trendy Moms
. It's for socializing and to get new followers, fans, subscribers, readers without feeling overwhelmed.
Here's the link with the details:
http://www.smartandtrendymoms.com/2010/04/link-up-and-get-new-blog-readers-its.html
Stop by and join the Parade!